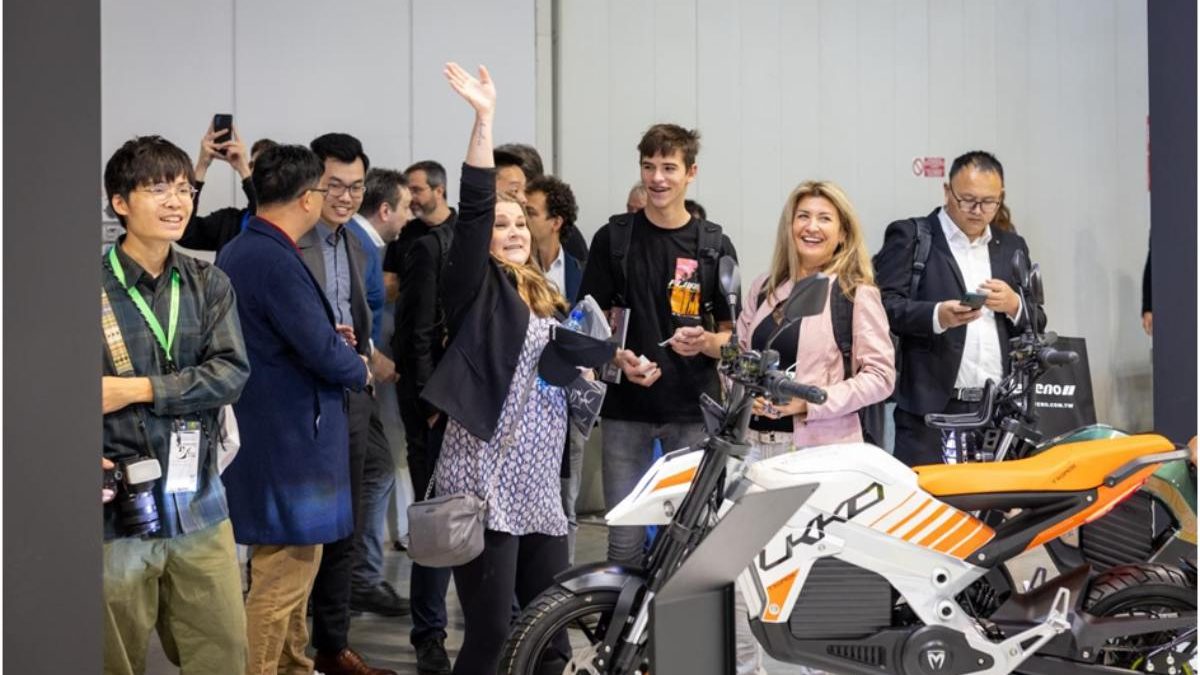 Tromox is making heads turn at the EICMA (International Cycle, Motorcycle and Accessories Exhibition) 2023 taking place currently in Milan, Italy, thanks to its new MC10 electric bike. The first e-bike in the off-road segment from the globally acclaimed manufacturer, MC10 has been designed to drive sustainable transportation, reduce environmental pollution, and improve urban traffic conditions.
Tromox, a leading manufacturer of electric motorcycles, is going great guns at the ongoing EICMA (International Cycle, Motorcycle and Accessories Exhibition) 2023. The company's latest innovation MC10 electric bike is gaining a lot of attention at the motorcycle industry's largest trade fair because of its emphasis on sustainability, protection of the environment, and enhancing traffic conditions in urban areas. The first ever off-road electric motorcycle from Tromox, MC10 has all the attributes of becoming a game changer in the electric mobility industry.
As the need for a greener future continues to gain momentum, policymakers worldwide are advocating the implementation of sustainable transportation. This drive calls for a mode of transportation with a positive environmental, economic, and social impact on the world. Compared to all their traditional counterparts, electric bikes have the potential to revamp the automobile industry with their eco-friendly features.
bikes are widely accepted as the future of sustainable transportation primarily because they reduce the carbon footprint of commuters. Unlike scooters and motorcycles that emit carbon dioxide into the environment, electric bikes have almost zero emissions because they don't use any fossil fuel. According to a study by the European Cyclists Federation, even compared to just 150 grams per mile for an electric car, an electric bike releases a negligible 2.5 to 5 grams of carbon dioxide per mile.
A recent research by climate scientist Tom Lent found that compared to electric cars, electric motorcycles are 10 to 30 times more efficient at fighting climate change. Also, compared to a 30 mpg gas car, an e-bike emits 40 to 140 times fewer pounds of greenhouse gases. The same study also found that 30 to 100 times more miles can be traveled per pound of battery by e-bikes than by an electric car.
Tromox has been playing its part in the worldwide movement to protect the environment and its MC10 electric motorcycle safeguards the environment and its resources in multiple ways as summarized below.
According to recent reports, fossil fuels account for 95% of the world's overall demand for transportation energy and approximately 28% of greenhouse gas emissions worldwide. This over-reliance on fossil fuels and high emission of carbon dioxide can be reduced significantly by taking electric bikes mainstream.
By reducing emissions, MC10 electric bikes can not only help counter global warming but also reduce major urban issues such as air pollution, smog, etc. This is critical to ensuring a healthier environment for humans as well as animals.
MC10 users can help address the global power crisis by charging their batteries at off-peak hours. This minimizes their energy consumption while significantly reducing the load on the power grid.
The longer-lasting batteries of MC10 electric bikes contribute far less waste compared to traditional ones. These lithium-ion batteries don't contain harmful contaminants such as lead and are recyclable.
With its all-new MC10 e-bikes, Tromox also hopes to improve urban traffic conditions around the world. By providing an alternative mode of transportation and alleviating traffic congestion, it looks to ensure a smoother flow of traffic and shorter commute times for all. MC10 riders can not only save on fuel costs, insurance expenses, and parking fees, but they will also benefit from lower operational and maintenance costs.
"Transportation is the largest contributor to greenhouse gasses across the globe and electric bike riding is one of the most effective avenues as we work toward becoming carbon neutral by 2050. This is where our new MC10 electric bike comes in. We are confident that the futuristic design of MC10 can redefine the concept of urban mobility by delivering a more environmentally friendly and convenient way to travel," said a senior spokesperson from Tromox.
Some of the most compelling features of MC10 electric motorcycles include
Lightweight body and optimized front fork angle provide effortless control for off-road fun
SC-Heart's high-performance mid-mounted electric motor
SC-Heart's high-performance mid-mounted electric motor delivers a peak power of 11kw and a top speed of 90km/h.
An intelligent Battery Management System (BMS) provides protection against temperature, over current, short circuit, overcharge, over-discharge, voltage, and MOS fault.
Front and rear wheels equipped with highly durable and resilient wire-spoke hubs provide exceptional shock absorption for a more comfortable off-road experience.
The TR-3C (Comfort, Control, Cross) rear suspension system for precise steering control and mitigation of ground impacts.
Equipped with 30+ sensors, featuring 4G and Bluetooth communication for high-precision and responsive data transmission between the vehicle, owner, and backend systems.
The M-Space 3.0 Intelligent System leverages network collaboration and data intelligence to digitize the physical actions of riding.
The Tromox App Vehicle Connectivity System allows users to customize their riding experience based on personal preferences.
The MC10 will enter mass production in December 2023, with a price of approximately 6,000 Euros. For more details, please consult your local dealer.
To Find out More About Tromox and its Advanced Mobility Solutions, please visit https://www.tromox.com/en
About Tromox: Tromox is an electric motorcycle brand that aims to create a unique fusion of technology + trendy lifestyle exclusively for the young generation. Founded in 2018, the company combines Italian design with independently developed cutting-edge technology to provide young riders worldwide with an enjoyable, intelligent, and eco-friendly travel experience. Tromox offers limitless usage scenarios to all riders, showcasing youthful passion and providing a liberating and stress-relieving way to have fun.
About EICMA: EICMA, the acronym for International Motorcycle and Accessories Exhibition is the most important trade fair event for the entire 2-wheel sector at the world level. Since its first edition in 1914, this event has been taking place annually in Milan and is widely accepted as the most visited industry event in the world by several exhibitors, visitors, operators, and press internationally. The 80th edition of EICMA started at Fiera Milano in Rho on November 7, 2023, and will conclude on November 12.