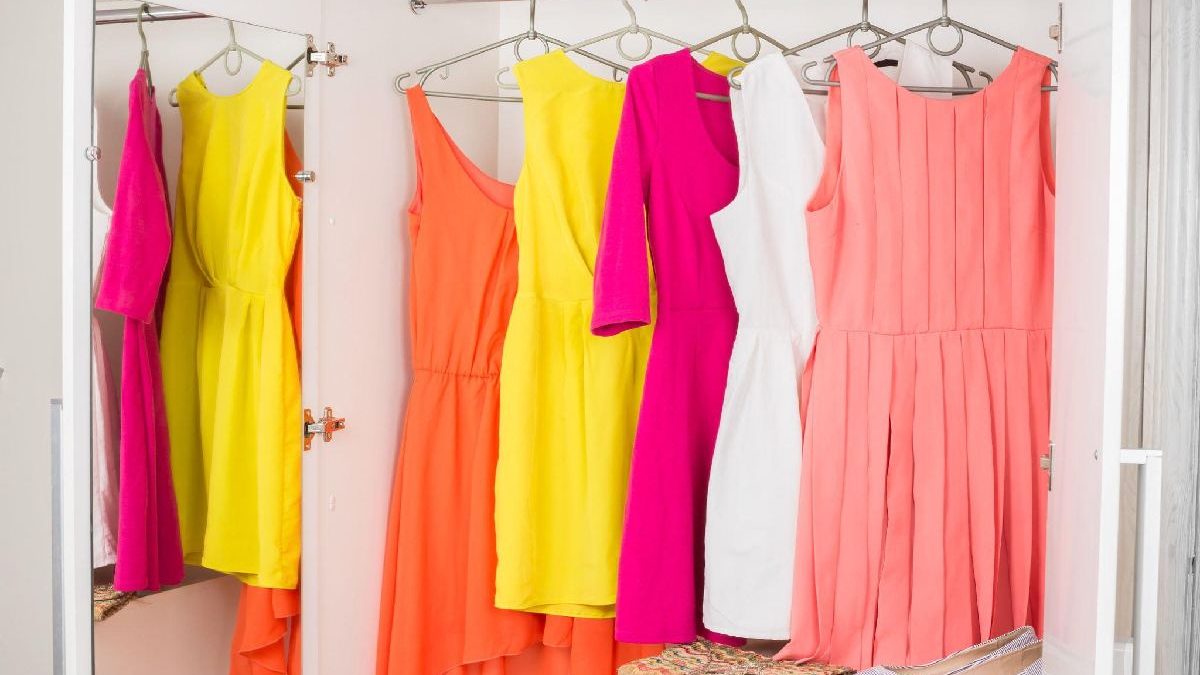 Summer is here, and there's no better time to freshen up your wardrobe with a splash of color. Toss those neutrals to the wayside and make way for a closet of vibrant colors. Adding exciting hues to your summer wardrobe can help you feel more confident while keeping you on-trend and fashionably in season. 
Not sure where to start? In this article, we'll explore subtle ways to add color to your wardrobe without going overboard. Here are seven great ways to level up your closet.
1. Start With Accessories
One of the best forms to add color to your summer wardrobe is with accessories. From a colorful pair of sunglasses and bold earrings to a vibrant statement necklace, accessories can transform your overall look. They are also reasonably priced and are easy to mix and match with your current wardrobe.
For example, if you're wearing a simple neutral outfit, a colorful handbag or pair of earrings can instantly brighten up your look. On the other hand, if you're modeling a more colorful outfit, try choosing accessories in complementary colors for a cohesive and chic monochromatic style.
Fashion can also be functional. Fun eyeglasses can keep you focused in the office, a funky laptop case can keep your electronics safe, and colorful Comrad Socks provide support and the comforting feeling you can only find with compression socks.
2. Experiment With Prints
Another great way to add exciting hues to your summer wardrobe is with prints. Whether it's floral, geometric, or animal prints, adding a printed piece to your wardrobe can add personality and a much-needed touch of color.
If you're new to prints, start with something small, like a pair of high heels or a top with a simple pattern. You could work your way up to bolder and more colorful prints with maxi dresses and printed jumpsuits.
3. Embrace Bright Bottoms
While it's easy to fall into a custom of reaching for neutral or denim bottoms, embracing bright colors in your pants and skirts can add excitement to your wardrobe. Consider adding a pair of bright yellow or pink pants or a bold, colorful skirt to your summer wardrobe. These can be paired with neutral tops for a balanced look, or you can experiment with color blocking by pairing them with a top in a complementary or contrasting color.
4. Play With Monochromatic Looks
A monochromatic look involves wearing different shades and tones of the same color. While this may sound boring, it can actually create a cohesive and visually interesting outfit. Plus, it's an easy way to add color to your wardrobe without feeling overwhelmed.
For example, try pairing a light blue top with darker blue jeans and blue sneakers for a relaxed, monochromatic look. You can also experiment with different colors, like shades of pink, green, or yellow. Carry it through to your jewelry, handbag, and even into your makeup. 
Want to make a really powerful statement? Determine the best colors for your skin tone to ensure your outfit compliments your natural beauty best! Streamline your look to match as closely as possible to create a strong and statuesque statement guaranteed to pack a punch.
5. Invest in Colorful Shoes
If you're not ready to commit to a colorful outfit or accessories, shoes can be a great way to add color to your fit. Consider wearing bright sneakers, vivid sandals, or a bold pair of heels. Investing in colorful shoes can elevate your outfit and provide an excellent way for you to express your personality. Bright red western boots, magenta slide-on sandals, or even a pair of cobalt blue platform heels can take a simple pair of jeans and a white T-shirt from "meh" to "wow!"
6. Layer With Color
Layering with color can be a great way to add depth and dimension to your outfit. Consider adding a colorful cardigan or a lightweight jacket in a bright hue to your summer wardrobe. Headed into the office for a big meeting? Mix and match your blouse, blazer, and trousers to create a multi-faceted look sure to turn heads. 
7. Try Bright Makeup
While not technically a wardrobe item, makeup can make or break a look. Adding bright makeup to your summer look can also help you incorporate some exciting hues into your overall aesthetic. Consider rocking a bold lip color, a bright eyeshadow cut crease, or a trendy wash of bright pink blush.
Spice Up Your Life
Adding exciting hues to your summer wardrobe can be a great way to express your personality, feel confident in your style, and boost your overall mood. From colorful accessories and prints to bright bottoms and monochromatic looks, there are many subtle ways to add color to your wardrobe without feeling overwhelmed or like you're doing too much. So, embrace the summer season and experiment with some new colors and styles to elevate your look to a whole new level.