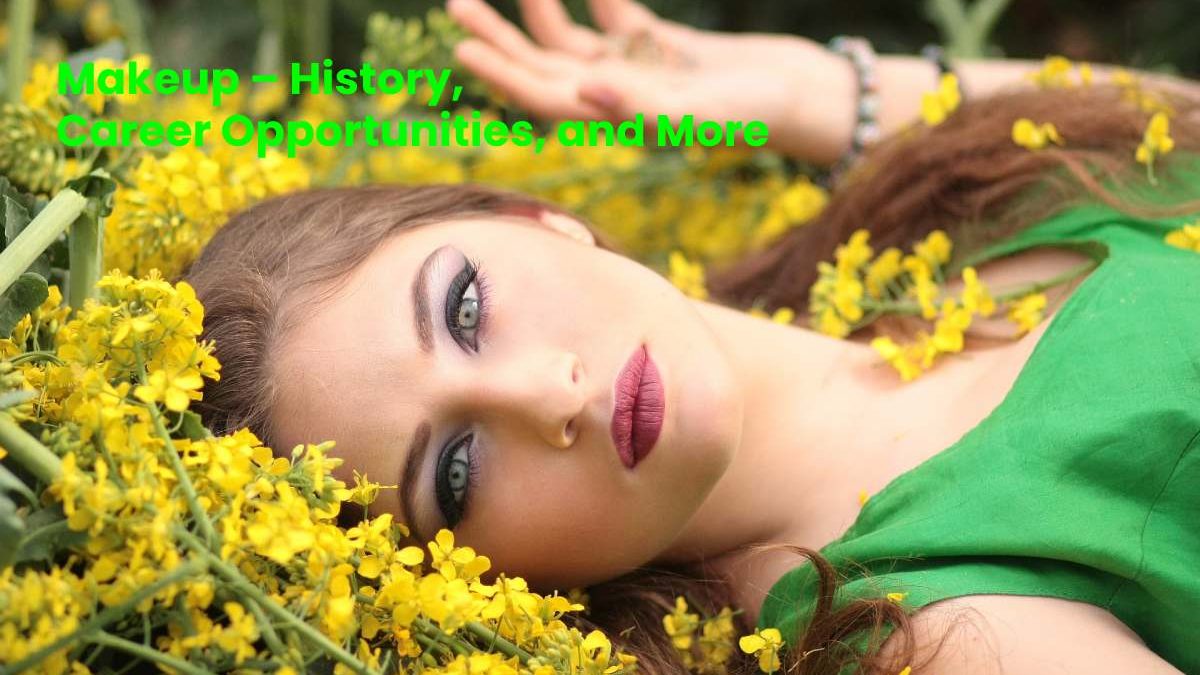 Introduction
The concept of makeup refers to the act and the result of applying makeup or makeup: using cosmetic products to change the appearance or beautify the face or other parts of the body. The element used for this purpose is also called makeup.
Humans use makeup to hide imperfections or highlight certain features. Many people, especially women, use makeup before attending social gatherings. Social makeup is usually part of a set of practices carried out by most people of a generation, trends, or fashions.
It is important to note that makeup can transform a face considerably; If we add that, many people do not leave their house without applying it. We can conclude that we rarely see the proper aspect of our co-workers, neighbours, or even relatives.
History of Makeup: The Origin of Makeup
The origin of makeup dates back centuries, specifically to Prehistory. According to cave paintings of the time, Paleolithic women coloured different parts of their bodies reddish brown.
In ancient Egypt, black and green powders use by men and women alike to paint their eyes. Her ideal of beauty went through tanned skin, large dark fish-shaped eyes, lips coloured in terracotta tones, and well-groomed eyebrows, as we can see in the busts of the time.
In addition to sun protection, people believed that makeup also protected them from diseases. They were not wrong since the black kohl and other powders on their eyelids contained lead salts that strengthened the immune system.
Some historians considered Egypt to be the cradle of makeup. The Egyptians used a dye made of red ocher and natural iron oxide for the lips they applied with a brush. To obtain the colour the eyes painted, they mixed earth, ink, and ashes.
Work as a Makeup Artist, Career Opportunities
There are many job options if you specialize in professional makeup. The demand for professionals is rising, and men and women are welcome in this world. The important thing is that you are up to the job, so it is essential to start from the base of good training.
Next, I will tell you some of the sectors in which you can get a job as a makeup artist are:
Cosmetic Firms
The world of cosmetics does not stop growing both nationally and internationally. Both established and new brands are constantly looking for new makeup experts. In some cases, they are jobs where you travel a lot, so this may be the perfect job for the more adventurous.
Film and TV
Are you also one of those who thought that cinema and television would die with the arrival of the Internet? Well, by now, you know you were wrong. With new platforms such as Netflix, for example, in Spain, there has been an upturn in the audiovisual sector. Especially at the series level, there is a greater demand for makeup professionals and more excellent stability. The series lasts for seasons, so work assures during that time.
Photography
It may surprise you, but makeup and photography always go hand in hand. For a photographer, good makeup is as important as good lighting. To do a good job, it will be essential that you have good knowledge because just the fact that a session is with artificial light or natural light will completely modify the makeup technique.
Theatre
Just the work of an actor or actress is entirely different working on stage than in front of a camera. The same thing happens with the result of a makeup artist. The strength of the lighting on the steps. The different distances of the spectators, the sweat of the actors, etc. These factors define the makeup techniques you must know to work in this field.
Journals
It is one of the dream challenges for a makeup artist. It's quite a challenge because you never know what style you can get. You have to be flexible and prepared for everything to work in a magazine. Can you imagine that you will make the cover that will mark the makeup trends of the coming year?
Runway
To work in fashion, you will need a lot of creativity and the ability to follow an original sketch. When a designer presents a new collection, he wants all the details to be polished, so several makeup sketches select the appropriate one, but it does not end there. It has to adapt to the skin and characteristics of the model.
Aesthetic Centers
One of the most common opportunities is to work in beauty centres, beauty salons, or hairdressers. Within professional makeup, the most common thing in these centres is to work on social makeup. Both at night and during the day, so now you know, if you like to help people feel special for a day, this is your job.
Freelance
Finally, you always have the option to work for yourself. The usual thing is to gain experience in other jobs before setting out on your own, but if you feel ready, being your boss is always a very tempting option, so have your briefcase ready and fly.
Influencer
Become the queen of social networks and improve your brand! And why not? In the professional makeup course, you will learn self-makeup techniques, but you will also learn how to teach classes on this subject.
Makeup brushes
You may have opened your makeup case on occasion and found two or three "multi-purpose" brushes in a deplorable state due to having gone through creams and powders. If you have found yourself in this situation, don't worry, you are not the only one.
What is necessary to know, and more if you want to dedicate yourself professionally to this world, is that each brush is designed for a specific product and applied to a particular part of the face. It is not the same to use a meeting for the eyes than for the lips or to use it to apply blush than concealer.
Among the products offered by the different brands, we find generic makeup tools for daily use; and others created to make a more elaborate makeup or give it a more specific and professional service. Next, we detail the different types of makeup brushes you should have if you want to dedicate yourself professionally to this world.
Applying Makeup Base
The powder makeup base is used at the beginning of everything to improve and unify the tone of the face and eliminate, incidentally, the occasional imperfection. On it, we will put the rest of the products.
When applying foundation, you won't need to be as precise or cautious when using other products. In the case of hair, it is advisable to opt for a synthetic one since it will significantly facilitate its subsequent cleaning. The most suitable makeup brushes for this are those whose bristles have a lower density since they allow to cover a more excellent surface of the skin to finish faster.
Powder and Blush Makeup Brushes
The rest of the powder products that we can apply to the skin, such as blush and other makeup powders, require a broad brush with loose hair. The larger sizes are suitable for powder application, while the slightly medium sizes are perfect for spreading blush or bronzer.
But perhaps the most comfortable makeup brush is undoubtedly the one used (and still used) by Japanese geishas: the Kabuki brush. It consists of a much shorter and thicker handle with a higher density of hair so that a broader and straighter surface creates, perfect for spreading the powders, preventing them from caking.
Eyeshadow
The goal of any eyeshadow is to stand out and draw attention to its intense colours and aesthetic gradients. The brush will grab all the pigment and place it ideally on the eyelid without losing a product.
Application of Correctors
Although a corrector, whether for dark circles, acne, or any other, you can apply it perfectly with your finger. Having a  brush will allow you to have much more precise control. The cat's tongue brush is most recommended, with short hair and a rounded tip.
Makeup Brushes: Other Uses
Many other types of brushes make processes faster and easier. If, for example, you are starting and you are afraid that you will make a mess with the eyeliner.  You can use a chisel tip brush that will help you. Achieve a reasonably decent corner without losing your nerve in the attempt. You will gain a more precise and perfect result with a fixed brush, although the final result will depend more on your precision and skills.
If lips are your thing, you have some other brush for this use. The most suitable are those with a rigid and rounded tip with short hairs to make a good lip outline and fill it precisely.
Conclusion
Makeup is universal and has its origins in ancient times. It is in different ways and with other materials but with the same purpose, to be more attractive and improve the external appearance.
Related posts