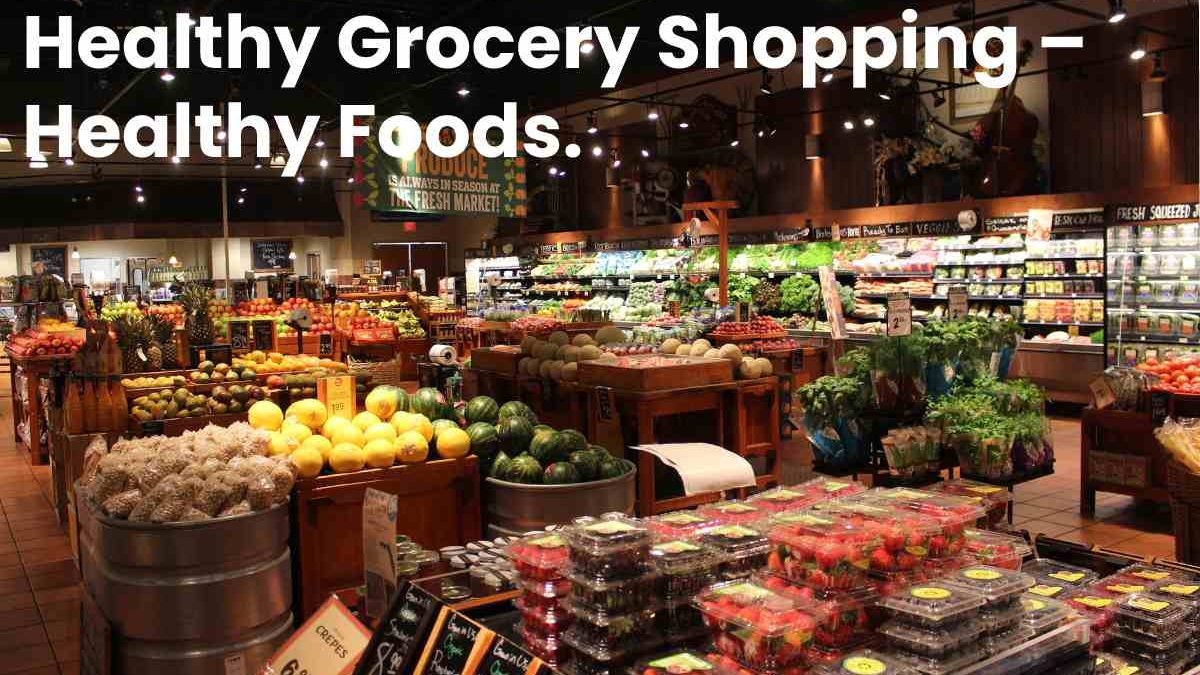 Healthy Grocery Shopping – How to make Healthy Decisions When Shopping?
Healthy grocery shopping – healthy eating starts with buying healthy foods. Here you will find tips on making the most of your time at the supermarket. Whether you want to eat a more nutritious diet or lose weight, these tips will help you get started.
Plan ahead. Before you shop, decide what meals and snacks you want. Think about the amount of time you have to prepare your meals, and then choose recipes that require that time. For example, you may need to prepare most of your meals in less than 20 minutes, but you may have time to prepare a recipe that takes longer. When making decisions about your menu, check what ingredients you already have. Next, make a list of the ingredients you'll need to buy at the store.
Don't shop when you're hungry at a snack or meal before shopping. That way, you won't be tempted to buy less healthy ready-to-eat foods like candy, chips (like French fries), or fast foods to satisfy your hunger.
Shop smart and be realistic. Include some healthy salty snacks and foods on your shopping list. Remember to include some healthy convenience foods, such as freshly cut and bagged vegetables or low-calorie or low-sodium frozen meals.
Buy healthy foods. Use the shopping list you created in the store based on your menu plan. You may notice that the items in the store's outer aisles are primarily fresh foods, such as meats, fresh fruits and vegetables, and dairy products. As you shop, pay attention to how much you buy in the outer aisles compared to the inner halls, where you'll find more processed foods like canned soups, packaged cookies, chips, and soft drinks.
To Feed your Family
1. Serve them fruit and vegetables every day.
2. Limit juice and sugary drinks.
3. Instead of butter or lard, use vegetable oils, such as olive and canola.
4. Choose whole foods instead of refined when it comes to bread, cereals, pasta, and rice.
5. Choose low-fat or low-fat dairy products.
6. Serve more fish.
7. Reduce salt.
We have already pointed out that you include fruit and vegetables on your shopping list. What else should I incorporate? Consider adding the following essential foods:
Protein foods: fish (fresh and frozen, also canned tuna and salmon) and shellfish; lean chicken and turkey (without skin); lean beef and pork. Options that contain protein but are not meat include tofu, peas, lentils, chickpeas and beans (black, white, or red), nuts, seeds, and eggs.
Cereals: whole-grain bread, pasta, cakes, breakfast cereals; oatmeal; Integral rice; bulgur (cracked wheat) barley; and quinoa.
Dairy: Fat-free or low-fat dairy, including milk, yoghurt, cheese, and calcium-fortified milk alternatives such as almond milk and soy milk.
Choose and Preserve Agricultural Products – Healthy Grocery Shopping.
Whenever possible, choose fresh fruits and vegetables that are in season. Buying fresh produce is usually the best option, price, and taste. Visit markets and flea markets for produce from local farmers, but try not to buy more than you can keep and consume because fresh produce spoils. An exclusive way to teach your child about seasonal produce is to go to a local farm or orchard where you can choose the foods.
When Choosing to Produce, How can you tell if it's Fresh?
From green beans to cantaloupe, all fruits and vegetables give clues to their degree of ripeness or freshness – Healthy Grocery.
Choose those vegetables that appear to be the freshest and most colourful. Most of them should have a firm, crisp texture. Don't buy vegetables that appear mushy and mushy or show signs of spoilage.
When picking fruit, avoid picking bruised pieces, but remember that a perfect exterior doesn't necessarily mean better quality fruit.
Keeping produces fresh safely means it will last longer. Some vegetables can be kept in the fridge for a couple of days. Others, including cabbage and root vegetables, can longer be held in the refrigerator. Store potatoes and onions in a cool, dark place to keep them fresh. Plan things to consume the most delicate fruits and vegetables first, and save the ones that last longer for the end of the week.
Healthy Grocery Shopping – Frozen or Canned Fruit and Vegetables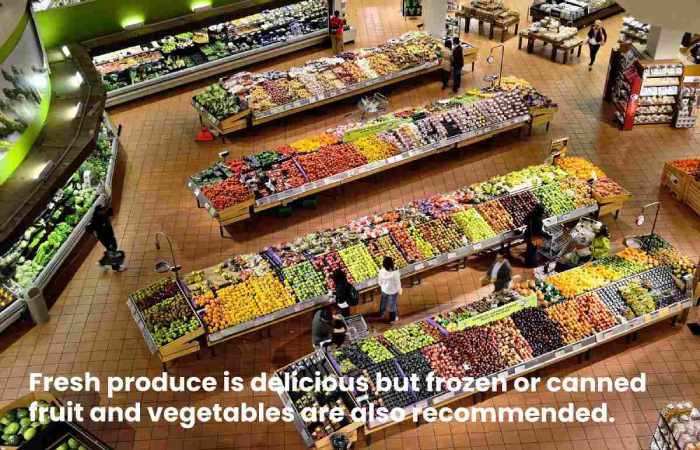 Fresh produce is delicious but frozen or canned fruit and vegetables are also recommended. Discharged or frozen fruits and vegetables last longer and are just as nutritious as fresh produce. Choose products without sauces or added sugars. When it comes to canned fruit, look for canned in their juice rather than syrup. Just as you wouldn't pick a bruised fruit, don't buy a package or bag of frozen vegetables that are torn, cracked, or half-open. When it comes to canned goods, don't buy those that are bulging, dented, or leaking.
Use the Guide Below to Help You.
Fresh Produce
protein
dairy
Cereals, rice, bread, pasta, and cereal
Healthy Foods – Healthy Grocery Shopping
Water
Drink 8 to 12 glasses of water each day.
Dark Green Vegetables
Healthy groceries shopping includes green vegetables. Eat dark green vegetables at least 3-4 times a week. Good choices include broccoli, bell peppers, Brussels sprouts, and leafy greens like kale and spinach.
Whole Grains
Sit down and eat whole grains at least 2-3 times a day. Look for whole wheat flour, rye, oats, barley, amaranth, quinoa, or coarse grains. A good source of fibre contains 3-4 grams of fibre per serving. A good source includes at least 5 grams of fibre per serving.
Beans and Lentils
Try to eat soy foods at least once a week. Add legumes, including beans and lentils, to soups, stews, casseroles, salads, and sauces, or eat them as is.
Fish
Goal to eat 2-3 portions of fish per week. Salmon, trout, herring, herring, sardines, and tuna are excellent choices. Servings consist of 3-4 ounces of cooked fish.
Strawberry
Include 2-4 servings of fruit in your daily diet. Try eating berries like raspberries, blueberries, blackberries, and strawberries.
Eat dark orange and dark green vegetables, such as sweet potatoes, melons, mangoes, nuts, and squash.
Flax seeds, Nuts, and Seeds
Healthy grocery shopping includes flax seeds, nuts, seeds. Add 1-2 tablespoons of flaxseeds or other grains to your food each day, or include a reasonable amount of nuts (1/4 cup) in your diet each day.
Organic Yogurt
Males and females between 19 and 50 need 1,000 mg of calcium per day, and those over 50 need 1,200 milligrams per day. Eat calcium-rich foods, such as fat-free or low-fat dairy products, three to four times a day. Include organic options.
Conclusion
Healthy grocery shopping leads u to healthy eating. Healthy eating is not limited to food alone. Healthy food can go through an industrial process and remain healthy. Still, it can also cease to be so if subject to physicochemical processes or transformations that reduce its nutritional quality or the significant incorporation of artificial additives, or its poor nutritional content. On the other hand, healthy eating should include the frequency of each type of food, the amount of food consumed, and the preparation methods and ingredients of said food or meal.